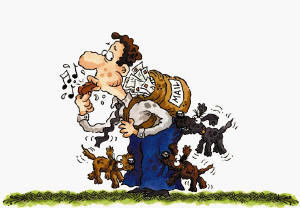 Did you know that there is a national week to honor dog bite prevention? Well, as the title of this post suggests, there is! So, I thought I would attempt to find some statistics on dog bites for you.
In 2009 it was reported that 2,863 postal employees were victims to dog attacks. And while that doesn't seem like too many...that equals almost 9 a day for each day of mail delivery. A number that I think is far too high. What's worse is that the number has increased to over 5,600 in the last year!
Now I am sure that some of the incidents that occur are with stray dogs, however, that still can't account for all of the incidents. So why are so many people leaving their pets where they can harass our delivery folks? (I say delivery, because lets face it..the USPS is only one of the entities that deliver to our homes. What about UPS and FedEX drivers? They probably have the same problem.
So on this first day of National Dog Bite Prevention Week, remember to keep your pets safe and away from areas where delivery drivers will be stopping. This will make everything work much smoother. =)