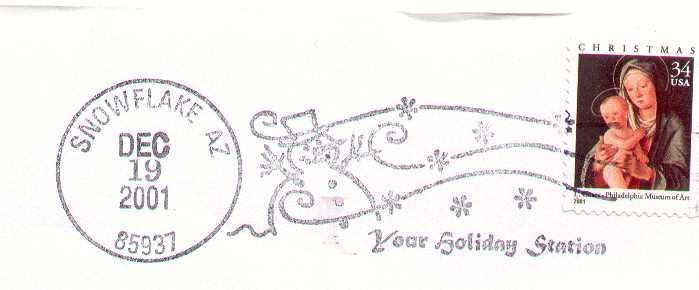 I am slipping!! I had planned to post this a week or two ago..(right after Thanksgiving to be exact) because I know many of you like to post holiday cards around that time. However, there has to be at least one of you that waits til the last minute (like me).
So, if you missed the post by Becky (
The Snailmailer
) then this might be new...news for you! The USPS released a list of Post Offices that have holiday names. You can find that list by clicking
here
(same list that Becky posted).
And there is another list that I use which can be found
here
. This list includes all holidays (though it may be outdated) and also has some images of postmarks gotten from different places. Which makes it nice when trying to figure out which place offers special pictorial cancellations.
When sending your mail for re-mailing, you need to put the stamped and addressed mail inside a larger envelope. Stamp that envelope and address it to Postmaster C/O Remailing or Holiday Postmark and then include the address to the post office of course. I like to include a small note thanking them for taking the time to cancel my mail. =)
Now, you might want to pop over to this
post
and leave a comment to join the fun of the Giveable Greetings giveaway! There are only a few days left to win one of her lovely cards. The giveaway ends on Wednesday at 7pm Eastern Standard time.