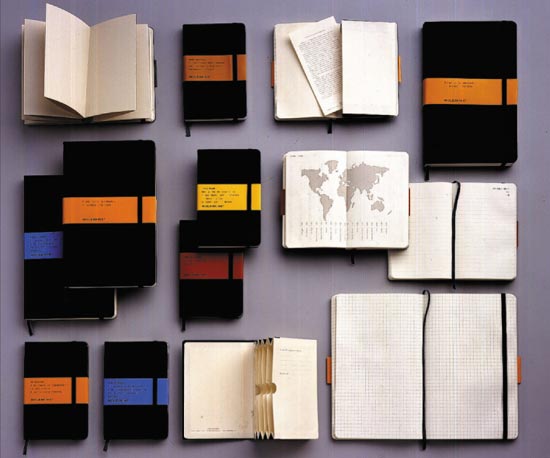 If you don't, then this post is probably gonna bore you to tears! IF, however, you are like me and enjoy writing in this line of notebooks then well...time to celebrate!!
Notebooks like Moleskines have been used for centuries. If fact famous people such as Pablo Picasso, Oscar Wilde, and Vincent Van Gogh all used them. The current Moleskine notebooks are similar to those used by the people listed above, very little has changed.
What makes them so great? Well...to me, I like the paper they use and the craftsmanship. You can tell that they are different than the mass produced off brand notebooks. Sure, they are a little bit more expensive but if you have the money and you enjoy they way they feel under your pen..I say splurg!
On to the new line. Moleskine is releasing a line of "Doodle" notebooks. Seems pretty awesome right?? But I haven't even gotten to the best part yet! These new lines will be readily available in Target stores!! Rejoice my fellow Moleskine enthusiasts! Finally they will be available in a closer store to me! (ok...so hopefully this line being available in Target will be exciting to someone else).
You can read more about this line, or any other products made by Moleskine on their website
here
.
**On a side note, I use the Moleskine mini notebooks (unlined). I believe they are 3x5 cahiers in black. (I dunno why i was going into such detail...) Anyway, I was wondering if anyone would be willing to decorate the cover of one for me? I have decided that they are pretty boring in just plain colors and while I could decorate my own, I thought it would be cool to send them to someone else to decorate and send back. SO...I have two of them at the moment that could stand to be decorated. I would pay to ship them to you..with the promise that you will ship them back when you are done. (Who knows..there may be other goodies for you too.) If anyone is interested in making my lil pocket notebooks more interesting please let me know in the comments. (in the event that more than two people say they are game..well...I suppose this time around I will take the first two names...though trust me I use these lil guys like its going outta style.)